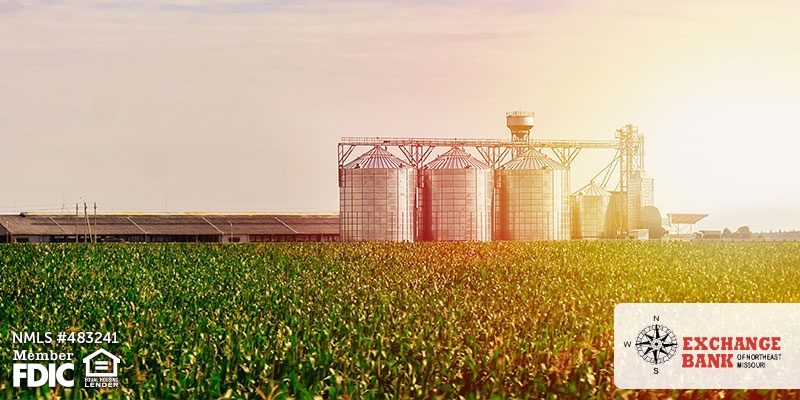 "Let us not forget that the cultivation of the earth is the most important labor of man. When tillage begins, other arts will follow. The farmers, therefore, are the founders of civilization" (Daniel Webster). We love our farmers and believe they are the backbone of this nation. If you are new to farming or if it has been in your family for years, it's important that you know about farm loans. Here are the basics you should be familiar with.
FSA
When talking about farm loans, we should first discuss what the FSA does for farmers. FSA stands for Farm Service Agency. They are a branch or agency of the US Department of Agriculture. You may be able to obtain a loan through the FSA if you meet certain requirements. If you need to start your farm, expand or sustain it, you are likely going to need a farm loan. Choosing a lender like Exchange Bank of Northeast Missouri to help you through the process will be the first step.
Who Qualifies?
A need to buy equipment or livestock
A desire to expand your business/land
Experienced a natural disaster
These loans are meant for those who are not able to get credit from a commercial lender. They are usually used by farmers within their first ten years of business. When you are able to receive credit, you will no longer qualify for a loan through FSA and will need to go through a commercial lender.
Types of Farm Loans
Farmers have very specific needs. There are types of loans that many farmers seek out to help their farming businesses thrive.
Operating Loans: These can be essential to the success of a farm. They help purchase things like fertilizer, livestock, irrigation, and seed.
Equipment Loans: No matter how big or small the farm, you're going to need equipment to ensure its success. Equipment loans can be used to help buy things like tractors, grain bins and farm trucks.
Real Estate: This loan is for growing or expanding your land.
There are a variety of options available to farmers in terms of loans. Let us help you figure out a loan tailored to meet your business needs and goals.
Exchange Bank of Northeast Missouri
Member FDIC
Equal Housing Lender
NMLS# 483241