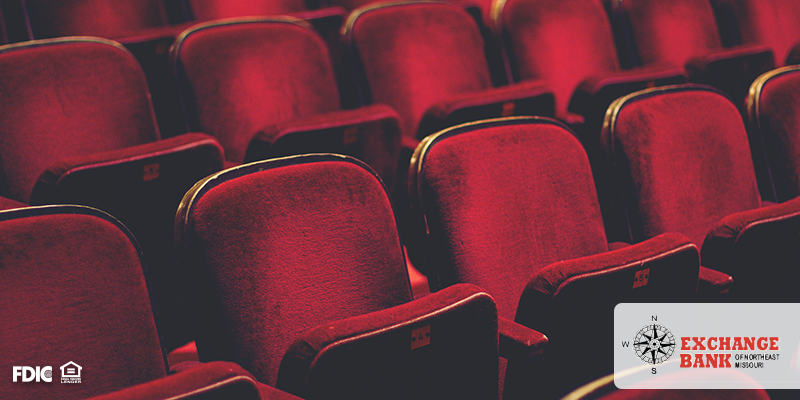 Occasionally, even the best movies hold fantastic financial advice. We love these classic films and their timeless tales. At Exchange Bank of Northeast Missouri we're excited to share their hidden financial advice, and help you make the most of your money-management, (while cluing you into some great movies to watch along the way!)
"You… you said… what'd you say a minute ago? They had to wait to save their money before they even ought to think of a decent home? Wait? Wait for what? Until their children grow up and leave them?" - It's a Wonderful Life, 1946
Just like this movie's actor, our lenders at Exchange Bank of Northeast Missouri believe you should enjoy your home as soon as you can instead of waiting to pay for it in full. Our dedicated team of mortgage professionals is here to help you find the ideal lending solution to purchase the perfect home for your growing family. Instead of waiting ten, fifteen, or twenty years down the line to purchase your first house, stop in today and discover your home ownership potential.
"One more thing, they don't want to pay taxes again, ever." -Armageddon, 1998
Just like the heroic men of this movie, we understand you don't want to pay any more taxes than you have to. While we can't help you eliminate having to pay taxes, helpful savings accounts or a Roth IRA, can assist you in legally avoiding extra taxation later in life. If you're curious and would like to learn more about our savings account options, stop by your nearest branch today!
"You know why the Yankees always win Frank?" "Cause they have Mickey Mantle." "No, it's 'cause the other teams can't stop staring at those… pinstripes!" -Catch Me If You Can, 2002
Instead of choosing your personal loans or mortgages based off of flashy deals or specials, choose a reliable lineup with our team of community focused professionals. Our goal is to help you have the best experience possible alongside our local lenders, without the need for door-buster deals. Before you start your search for financing, ask yourself if you're searching for the ideal teammate, or if you're just staring at those dang pinstripes.
"The moment you become embarrassed of who you are, you lose yourself. I changed the house, the way I dressed, the way I ate - and for what?" -Oceans 13, 2007
If you haven't heard already, keeping up with the Joneses is overrated. A high amount of debt, low savings, and never feeling like you have enough, there aren't many upsides to this eternally competitive contest of who has what. Instead of trying to compare and contrast your belongings, instead, focus on the experiences and essential items that mean the most to you and your family. These fundamentals can help you structure your financial well-being and focus your earnings on things that mean the most to you, not your neighbors next door.
We love the movies showcased above! Are there any movies you find yourself watching time and time again? If you notice any great financial tips or tricks, be sure to post them to our Facebook feed. At Exchange Bank of Northeast Missouri, we're always searching for new and exciting ways to help our customers save!
Exchange Bank of Northeast Missouri
Member FDIC
Equal Housing Lender
NMLS# 483241