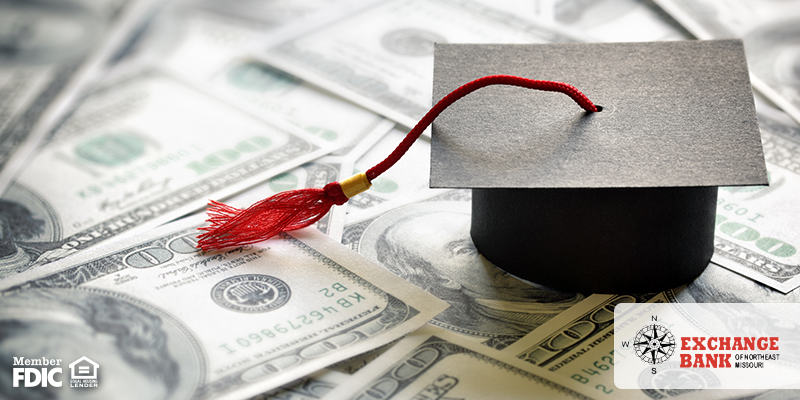 You only want the best for your child - but how much is the best? Figuring out the amount of money to begin putting away for your child's tuition can be tough. Yes, they will be able to contribute, but it doesn't hurt to help your baby get the educational future they deserve. That's why Exchange Bank of Northeast Missouri offers some insight on what funds you should begin putting towards your child's education today!
Start Early
According to the College Board, an in-state public college academic year can average $9,410. This means you'll want to start saving as soon as possible. Babies and children cost a lot of money so finding funds to put away for college can be tricky. It may even be best to start saving for your child before they're born. That way you don't have additional child expenses to worry about while putting tuition money away! Starting at $100-200 a month can be a simple start - then you can build as you go!
Automate It
Get into the routine of having a certain amount pulled out of your check to go straight to tuition. This will help you stick to your monthly savings goal instead of trying to put different amounts here and there into an account. Automating your money will help you begin to get used to living on a certain budget while continuing your deposits to the college fund.
Know What Comes First
When you decide to save for college tuition, remember that other bills won't stop coming in. Make sure your monthly savings goal isn't outrageous. You know your income, so you know what budget is best. By knowing your home loan and other payments come first, then you can decide what a good amount is to put away for your child's future.
We hope these ideas put you on the right path to furthering your child's future success. If you're looking to open a savings account to save for your baby's education, give us a call! We'd be happy to discuss our different options with you.
Exchange Bank of Northeast Missouri
Member FDIC
Equal Housing Lender