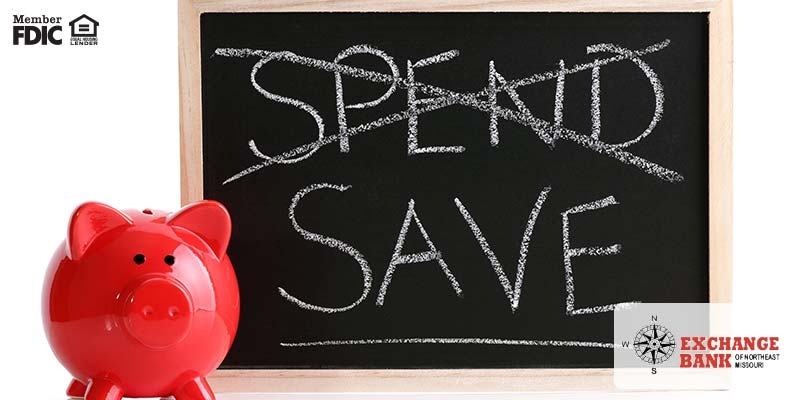 We've all heard the tips about not eating out, cutting cable and canceling that gym membership you never use. However, that leaves us wondering what other crafty ways can we think of to save? Exchange Bank of Northeast Missouri offers a few creative ideas on how you can keep money in your wallet while on a budget.
Switch Up Beauty Brands
Small expenses can add up in a hurry. Luckily, there are simple fixes for that problem. Try switching from your beloved expensive shampoo to a more generic brand. Instead of buying that department store dollar eye shadow pallet, try out a drugstore option. By moving to more cost-friendly options with your beauty products, your bank account will thank you and you'll still get the same end result after using your generic products.
Thrift It
Many people only think of online shopping and name brand stores when looking for a new outfit. However, there are plenty of options out there for your next stylish endeavor that won't cost you an arm and a leg. Going to thrift stores is a great way to find pieces that aren't going to be a part of everyone else's wardrobe and you'll save a large amount of money!
Host a Potluck
Being on a budget shouldn't mean you don't get to socialize anymore; in fact, you may have friends who are trying to save, too. Help yourselves out by hosting a potluck party. By having everyone come over to one of your homes and bring a dish, you won't have to worry about spending money on an entire spread.
Skip Bottled Water
Invest in a water bottle and fill up! Spending money at vending machines, gas stations and grocery stores on something you're already paying for at home is not the best financial move. Look at other items that may be in the same category and cut those expenses out of your life, too, such as buying coffee every morning instead of making your own.
Make a Meal Plan
Mapping out what your meals will be for a week or two can take a little time, but it will be well worth it financially. Going into the store with a set plan of what you will buy will help you avoid adding extra items to your cart while walking through the aisles. This will decrease the amount of unplanned expenses you have each month! When meal planning, you will also have the option to find healthier choices to make lunches, not just supper. Being able to pack lunch each day for you and your family gives you the chance to cut down on what you spend every day for lunch.
We LOVE these ideas and hope you do, too! Try out a few of these unique ways to save and your bank account will thank you. Stop in or feel free to give us a call if you're looking for more ways to save!
Exchange Bank of Northeast Missouri
Member FDIC
Equal Housing Lender