Posted On: October 25, 2017 by Exchange Bank of Northeast Missouri in: Personal Finances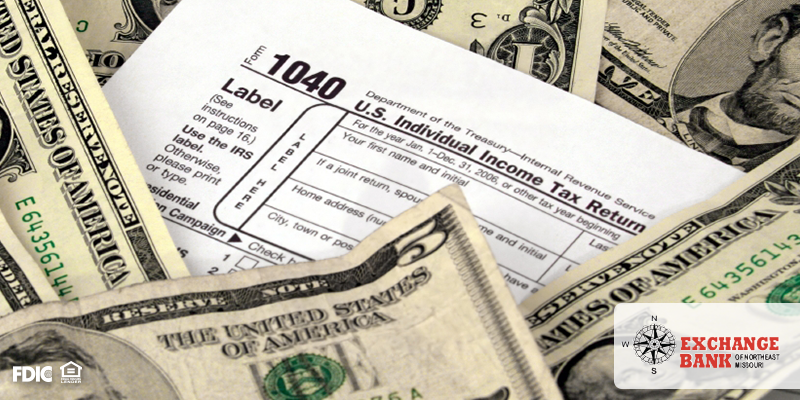 While it might not be on your radar, now is the perfect time to starting thinking about taxes. You may be thinking you just wrapped up tax season but April 15 will be here before you know it. The end of the year is the perfect time to make a few financially savvy moves to help trim down your tax bill.
While not all of the ideas below apply to everyone, they can help you fund your retirement account or even put you in a charitable mood.
Contribute the maximum to your retirement account(s) - If you have a tax-advantaged retirement account (meaning your contributions aren't taxed), contributing the maximum lowers your taxable income, meaning you pay less on your tax bill. Even better? You're helping contribute to your retirement savings fund!
Give to charity - As long as you have over $250 in costs directly related to helping a charity plus their acknowledgement (a receipt, statement, etc), you're in good shape. Just be sure you also have the receipts from making all those meals or purchasing supplies. Remember, donations to individuals doesn't count when claiming a charity deduction.
Job-hunting costs - If you were job hunting at all this last year (and have the receipts on hand), these costs can be deductible. Eligible expenses include transportation costs, food, lodging, cab fare, employment agency fees, costs of printing resumes, business cards, etc.
Give to family or friends – This category is a two-for-one! Not only do you give the gift of money but you reduce your tax burden. You can give up to $14,000 without having to file a gift-tax return, which lowers your taxable income, thereby reducing your tax bill.
Energy-saving home improvements – Made some energy-saving modifications to your home this year and have the documentation and receipts to prove it? You can claim a credit up to $500. While this isn't a tax deduction, you can use the credit to help pay your tax bill if need be.
This list is just a start of tax deductions you can start planning for. For more information or questions, you'll want to talk to your tax professional or Exchange Bank of Northeast Missouri to help guide you. We hope this list provides you with a little inspiration to find some deductions this tax season!
Exchange Bank of Northeast Missouri
Member FDIC
Equal Housing Lender