Posted On: April 22, 2018 by Exchange Bank of Northeast Missouri in: Personal Finances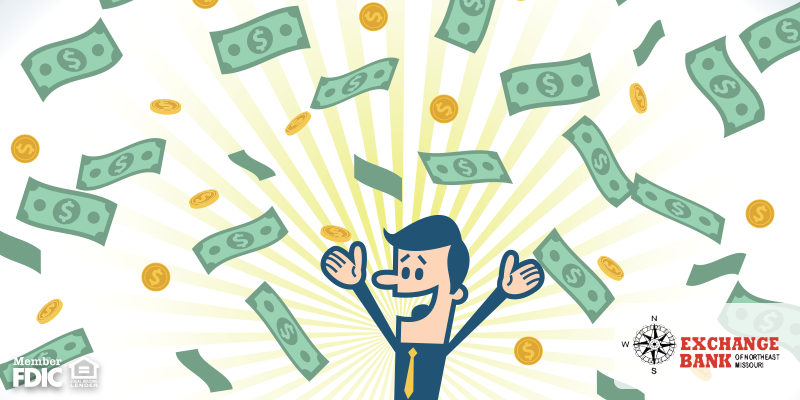 "Politeness costs nothing and gains everything," said Lady Mary Wortley Montagu. Many have been told or even repeated this saying. However, does it hold true? Not when it comes to these manners with money. There may be some moves you are making, or have been taught to make from a young age that can cost you more than what you intended, for little social benefits. Here's the top 6, and how to avoid them!
Not Asking for Your Money Back
If you are dealing with a retail situation where you were either charged more than you agreed to, or were the recipient of a faulty product, being assertive over being overly polite is what is going to help make things right. According to a Marchex study, 79% of callers are polite, but only 57% of agents show the same courtesy. If the representatives are not likely to be polite with you, certainly don't be overly polite by giving up getting your money back. Definitely still be respectful, but stay firm to get what is owed to you!
It can get even more sticky when it comes to your relationships, if you lent money to a friend (see #3). If you did break the rule and loaned money, don't be afraid to ask for your money back if they already agreed to do so at the start.
Always Chipping into Group Gifts
If it seems like you are giving money as a part of office birthday gifts or other social group gifts, know that you don't have to participate! Be creative and try to find other ways to celebrate the individual or ways to cut down on the amount contributed. Maybe you celebrate all of the birthdays once a month, instead of every week!
Loaning Money to Friends and Family
If you have certain friends who think you have extra to spare, you may find them consistently asking you for interest-free loans of varying amounts, because 1) you always say yes 2) they know you won't hound them about repayment. It can be compelling to say yes to those you love, but in addition to jeopardizing the relationship, you are much less likely to get your money back from those you know. It can sacrifice your own security, and in some situations, enable them to make poor money decisions. Having this as an always "no" will prevent people from asking, and get you off the hook!
Participating in EVERY fundraiser
So your best friend's cousin's child is having another cookie fundraiser along with 5 other coworker's children. Trying to be polite by buying from everyone gives you items you don't need that should be invested somewhere else. There are many things that we pay for because we have been told we are "supposed to" even though we can't afford them. These small yeses can really add up! Next time, work on the amount you are wanting to donate into your budget, so you know what you can afford and what you can't. When it's gone, it's gone!
Eating Out With Friends Every Week: Splitting the Bill
Of course you love getting a bite with friends, but eating out is expensive! Maybe you say yes so you won't get left out, or so nobody will feel snubbed. It can become even more problematic if your politeness keeps you from saying no when your group wants to split the bill evenly, even though you only ordered a side salad while the rest ordered appetizers, drinks and dessert. Let your friends know ahead of time that your entertainment budget only allots a certain amount, so you will be limited to the number of times you will go out, and that you will be paying for only what you order.
Not Asking for That Raise
If you aren't asking for a raise at work, for fear of damaging a working relationship, you are hurting yourself and wealth extensively. Continually shying away from asking for extras will put you more and more behind of where you want to be and should be. Do you know who gets extra perks and bonuses? The people who ask for them! Make a list of why you have earned what you are asking for, and be sure to ask for it at least once a year! You may not get everything you ask for, but a good employer will work with you to not lose a confident and respectful employee.
Politeness is a valuable trait in many situations, but knowing when manners are hurting your pocketbook is key to accruing wealth for your future.
Exchange Bank of Northeast Missouri
Member FDIC
Equal Housing Lender