Posted On: May 25, 2022 by Exchange Bank of Northeast Missouri in: Mortgages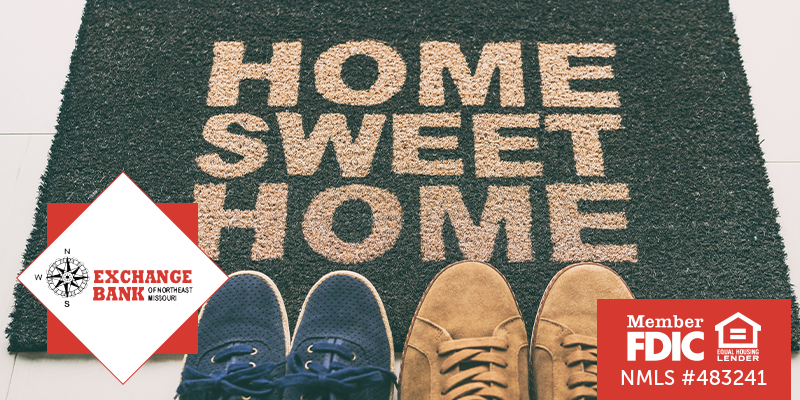 Questioning if you are prepared to become a homeowner? Here are six helpful tips to break down buying a home and what you need to be prepared for. Purchasing a home can be a stressful process. Let these recommendations set you up financially and emotionally when you are ready to pull the trigger on buying.
1. Be Mentally and Financially Ready
Maybe you have reached your savings goal or have gotten out of debt. Knowing you are ready and what you want is probably one of the most important pieces of the house buying process. Buying a home is a big investment, so be sure you're in a financial situation ready to pay for the house itself, property taxes, homeowners insurance, along with the furnishings and upkeep of your home.
2. Check Your Credit
Another big part of being ready for homeownership is making sure you have a good credit score. Your credit score will help determine the loan you can qualify for during this process. If you can qualify for a better interest rate, that will help lower what you are paying monthly towards your mortgage.
3. Have a Steady Income
Being sure you have a steady income is highly important when wanting to buy a home. Down payments can be a good chunk of money. You will want to be sure your income and savings will allow you to put down a very healthy payment. Mortgage lenders will check your income along with your credit score, as they both show your ability to repay. Purchasing a home is a very big financial and emotional decision, so being sure financially you're in a good place can help give you peace of mind on the emotional side. It is important to think through your 5 or even 10-year personal and professional goals before buying. You'll want to think about family, relocating for work and where you truly want to be at that stage of your life.
4. Build Healthy Savings and an Emergency Fund
There is a lot to think about when purchasing a home, but hopefully this helpful tip is something you have already been working on! It is especially important, to be working towards healthy savings and an emergency fund, regardless of whether you are buying a home. Why do you need strong savings and an emergency fund when buying a house? Along with the house itself, there can be many expenses and often unpredictable circumstances. Having some additional savings can ensure your comfort when moving as expenses arise. Setting aside money to build healthy savings will be great backing as you adjust your budget and incur monthly house payments.
5. How Much House Can You Afford?
How do you know what you can afford? There are several methods for calculating what you can afford, as well as several factors to address. You can utilize online down payment calculators to give you a better idea of what to expect.
Calculate Your Down Payment: https://bit.ly/3I0xCHM 
Refer to your budget to analyze your gross monthly income, as well as annual. After you can nail down what you are bringing in, look at your set expenses. Another expense to account for is your state property taxes. Many lenders will utilize the 28/36 rule to determine your ability to afford a house. Money.com shares that the 28/36 rule suggests your housing expenses should be no more than 28% of your total pre-tax income. Your total debt should not exceed 36% of your pre-tax income.
6. Align with Your Personal and Home Goals
Once you have learned about your home affordability, be sure making the move aligns with what you want. Buying a home is a big deal and can take up a good chunk of your budget. If it is more important to you to have the extras over a home, consider crunching the numbers to see what life would look like moving forward. In reality, when purchasing a home, you may have to push back that vehicle upgrade or vacation. Those are all good things to think about when aligning your personal goals with your home goals. It is critical to acknowledge the future and factor in your goals.
The process of deciding to buy a home can be a lot to think about. Share these helpful tips with a friend, colleague or family member who is debating homeownership. Reach out to Exchange Bank of Northeast Missouri today to discuss a mortgage on your new home! We would be happy to help you through this exciting process of becoming a homeowner.
Exchange Bank of Northeast Missouri
Member FDIC
Equal Housing Lender
NMLS #483241