Posted On: December 14, 2021 by Exchange Bank of Northeast Missouri in: Budgeting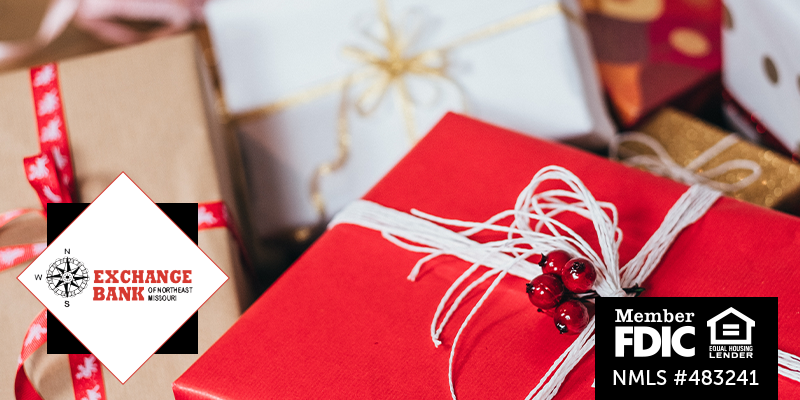 You want to give your friends and family something special for the holidays, but you don't have hundreds of dollars to spend. Don't worry because there are still lots of thoughtful gifts that won't hurt your wallet. Plus, these are all practical gifts that your loved ones will get lots of use out of!
1. Self-care products:
Throw a cute stocking together including holiday‐themed facemasks, lotion, lip balm, a candle and whatever else you think they may like.
​2. Jewelry:
A necklace or a cute pair of earrings doesn't have to be expensive. Look in places like Target to find affordable yet stylish jewelry.
​3. Board games:
This is a great gift for any age since there are games made for both kids and adults. If you're participating in a white elephant gift exchange, consider buying a fun game that everyone in the group can play together.
​4. Grooming kit:
If the man you are gift‐hunting for has a beard, a grooming kit is a great option so they can stay fresh and maintain their look.
​5. Coffee essentials:
This one is for all your coffee‐loving friends out there. Get a cute coffee mug along with their favorite coffee grounds, creamer or syrup, or throw in a gift card to their favorite coffee shop.
​6. A book involving something they're passionate about:
There's a book out there for just about anyone, so find something you think they'd enjoy reading.
​7. Subscription:
Spread out the spending by paying for a monthly subscription to a streaming service they're interested in. You can limit this as much as you'd like. For example, tell them you're giving them a one‐year Netflix subscription.
​8. Framed poster:
You can find both frames and posters cheap, and this is a great idea for someone who needs some extra home décor. If it's for a significant other, you can make it meaningful by framing a map pinpointing where you first met.
​9. Kitchen supplies:
If you have a friend who loves to cook or even someone who just moved in and could use necessities, kitchen supplies are a great idea! A rolling pin, whisk, measuring cups, serving utensils, mixing bowls, cutting boards and so on would be perfect gifts.
​10. Plants:
Who doesn't love a cute succulent for their desk or nightstand? If they're not big into caring for plants, you can always opt for fake ones to spruce up their home décor.
​11. New wallet:
If you're shopping for a guy in your life, having a nice, leather wallet is always a staple.
​12. Bottle of wine:
Pair someone's favorite bottle of wine with a cute wine glass and you have yourself a classy and thoughtful gift.
​13. Homemade holiday treats:
You can't go wrong with gifting sweets. Bringing your loved one their favorite holiday‐themed treats is guaranteed to make just about anyone's day.
We hope you find some reasonably priced gifts for your friends and family, but most importantly, spend quality time with the people you love. Happy holidays!
Exchange Bank of Northeast Missouri
Member FDIC
Equal Housing Lender