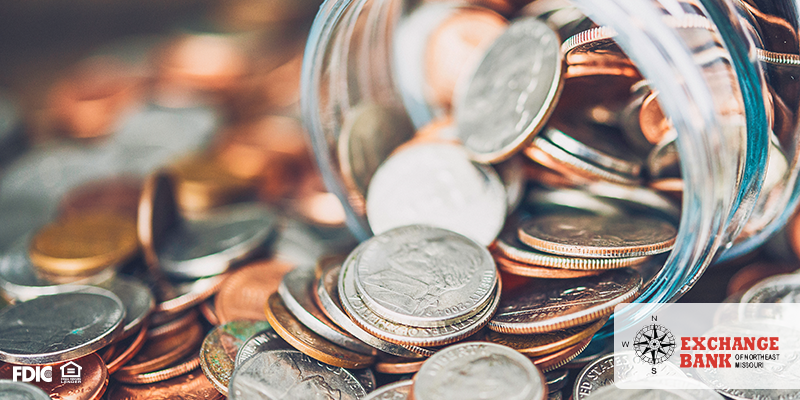 If you're an adult living in America, chances are you're living with debt. According to Pew Charitable Trusts, roughly 80% of American adults are in financial debt. You can see how it happens, between student loan payments, mortgage payments, car payments and credit card use, it's easy to get yourself into debt and it can be tough to climb out.
But, how can you help yourself live debt-free? It is possible, and Exchange Bank of Northeast Missouri has some tips that you can use. Some are tips that you can do right away, while others will require a dedicated approach over an extended period of time.
Create a Plan for the Future
It's easier to implement money saving strategies when you have a goal in mind. Whether you're looking to save for a purchase or to pay down debt, you need to set a budget to follow every month, and then stick to it. It's also crucial for you to closely monitor your finances by checking your statements and reviewing your account balances so you can note any abnormalities from the budget you've set.
Trim the Fat
The best way to make sure you can keep yourself out of debt is to limit your spending. This is easier said than done. Whether it's limiting your credit card use to emergencies or saying no to a friend who wants to go out for a night on the town, cutting back on spending is the best way to keep yourself out of debt. If you choose to live on less than you make, you'll save long-term.
Cash is Your Friend
While your credit and debit card make it incredibly easy to make purchases, carrying cash can actually help you spend less in the long run. If you limit yourself to carrying cash, you know exactly how much money you have (or don't have). This allows you to be more careful with your money and more diligent about your purchase decisions.
Living debt-free takes hard work and dedication. But, just like anything that requires patience, the payoff once you've reached your goal is worth all the work. Let Exchange Bank of Northeast Missouri help you develop the habits to live debt-free so you can live with less stress.
Exchange Bank of Northeast Missouri
Member FDIC
Equal Housing Lender