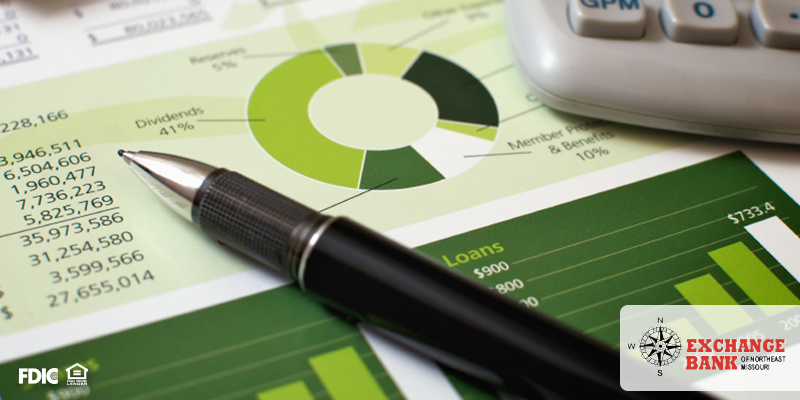 Harvest season has officially begun, and the familiar smell of freshly harvested corn will soon begin to fill the air. As you and your family start working the fields this fall, let your mind wander with all the incredible possibilities of expansion at your operation. Whether it's through bolstered livestock numbers, or new acres of cropland, our experienced ag lenders at Exchange Bank of Northeast Missouri can help you find the ideal financing option for your family's business.
Equipment Loans- In need of new equipment? This is the perfect solution. Whether looking for new or used, an equipment loan offers the custom financing you need.
Livestock Loans- Propel growth this year with our livestock loans! Whether purchasing calves, breeders, or simply growing a herd, this loan option has you covered.
Capital Improvement Loans- Add value to your operation this season with our helpful capital improvement loans. This fulfilling loan helps add to buildings and other current structures, increasing capabilities while adding value to your operation.
Operating Lines of Credit- Make purchases with ease! Instead of running to the bank for every purchase, this loan enables you to advance money directly into your account for each specific check you write.
FSA Guaranteed Loans- Another great option for your day-to-day expenses, a FSA guaranteed loan offers assurance and flexibility to our agricultural customers.
We love the ag community we are a part of, and value the passion and dedication these families put into their work year after year. With over 97,000 farms in the state, this incredible industry continues to support their local communities and provide a consistently good service for consumers both foreign and domestic.
If you'd like to learn more about our agriculture lending or other banking options please visit our website, or call us at (660) 727-3344, we'd love to help!
Exchange Bank of Northeast Missouri
Member FDIC
Equal Housing Lender
NMLS# 483241