Posted On: November 10, 2016 by Exchange Bank of Northeast Missouri in: Agriculture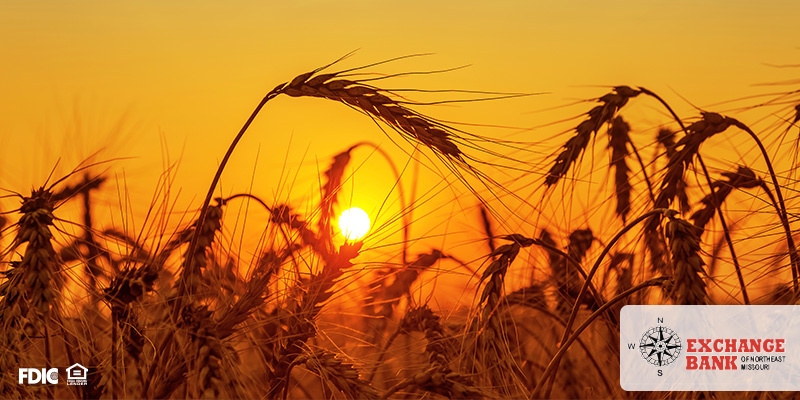 Harvest season is finally nearing its end, and the winter snow is soon on its way. These upcoming months will be focused on your livestock, preparing for the spring, and creating a plan for 2017. If the coming year includes expanding your operation, or making some much needed repairs, our experts at Exchange Bank of Northeast Missouri are here to help! With our experienced ag lending services, we offer the answers you need to help your operation continue to grow.
Q: What operational expenses can you help me with?
A: Livestock, equipment, real estate, and everything in between.
We work with a variety of operations of all shapes and sizes. With services customizable for each business, we work to help you achieve the next step in your operation's goals. Check out all of the various ag lending options we offer!
Q: I'm not sure how much I need to finance. Are there options for different budgets?
A: Our experienced ag lenders can help you find the financial solution best suited for your needs.
Each of our branches has a dedicated agriculture loan specialist. With farming built into the foundation of our business, we are knowledgeable on the ag industry's unique needs and business models. Our goal is to help you find the best solution at the most affordable cost for both you and your business.
Q: I just finished harvest. What's next?
A: Budgeting!
With the chaos of harvest subsiding, it's time to start planning for the future of your business. Whether that requires expansion or reduction, making an accurate game plan before the year end is paramount. By completing this task before 2017, you can make any warranted adjustments for tax purposes, ensuring you get the most out of your federal and state filings.
If you want to learn about financing your next ag purchase, or you have another financial question, our dedicated team is here for you! Give us a call at (660) 727-3344 , or stop by one of our six locations today.
Exchange Bank of Northeast Missouri
Member FDIC
Equal Housing Lender